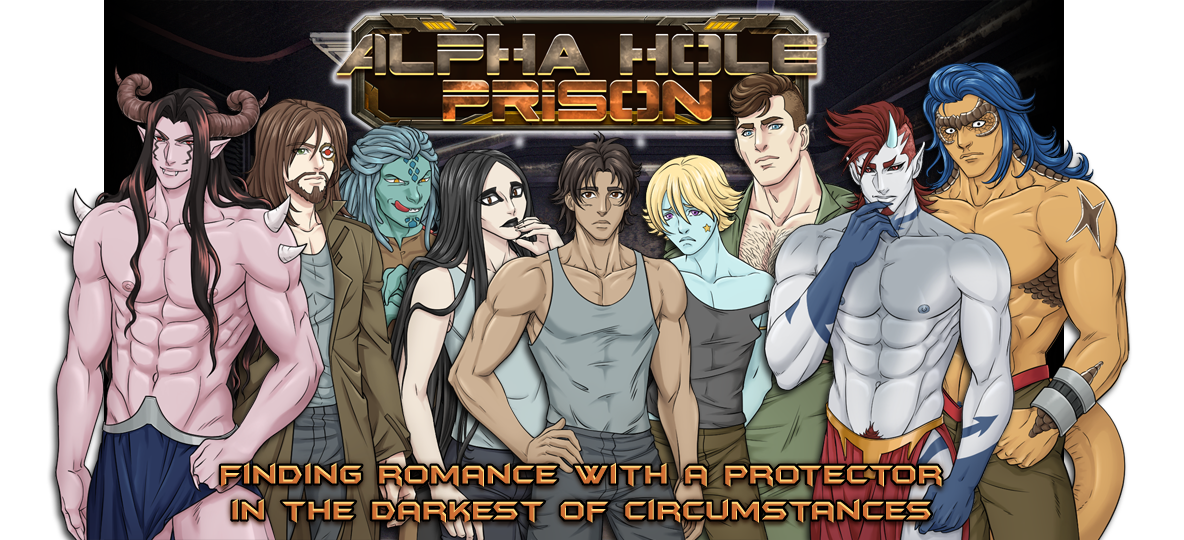 Alpha Hole Prison - PreOrder Fundraising Campaign
A downloadable game for Windows, macOS, and Linux
This is not Enzai. Miguel will have consensual relationships.
This Game and All Exclusive Content are Preorders Only - They Will be Delivered on or Before December 2021

We need $50,000USD to make Alpha Hole Prison. We'll still make it even if we don't get enough funds, but it will be a huge financial burden on the company!
Scroll to the bottom of the page to see the Rewards.

This is why we're starting our fundraising early right here. This Itch.io campaign will run until August or September 2020. We will eventually be launching a Kickstarter, but $50,000 is a huge ask!
All the money made here will be subtracted from the $50,000 total that we need from the Kickstarter.

This is your chance to get exclusive perks before the Kickstarter launches!
If you can't afford to back the perk you want, you can make monthly payments through our Patreon.
But what is Alpha Hole Prison?
Earthling Miguel Sanchez has been sentenced to life at Alpha Hole, a notorious space prison. His survival depends on using his charms to convince a powerful ally to protect him.

By the same creative team who brought you To Trust an Incubus!
A Dynamic 300,000 Word Character-Driven Dating Sim
6 Super-Sexy Adults-Only Routes
Animated Love Scenes!
Threesome Options in Every Route!
60+ Endings, Including Demo Endings
300+ Gorgeous CGs
An Intricate 'All Choices Matter' Flag System
Partial Voice Acting Guaranteed - Full Voice Acting Stretch Goal
24 Exclusive Music Tracks
Y Press Games Always Delivers Crowdfunding Rewards On Time!










Support this campaign through smaller monthly increments by becoming a Patron! It's like getting the rewards on Lay-Away.

Stretch Goals
These goals will be reached with the Itch.io, Patreon, and Kickstarter funds combined.
○ $50,000 - We Get Fully Funded
○ $51,000 - Miguel gets Spanked!
○ $52,500 - Two Love Interests Get it On!
○ $55,000 - All Characters Versatile! Even Rexillator and Viz-Goth!
○ $60,000 - A Sexy Minigame!
○ $65,000 - Full Voice Acting!
○ $70,000 - Minigame Has a Different Way to Win in Each Route!
○ $75,000 - Body Hair Toggle!
○ $80,000 - After Ending Scenes!
○ $100,000 - Unlock Rin-Timber as a Love Interest! (Added Jun. 2022)
○ $150,000 - New Love Interest Route! Backers Vote on Options! (Added Jun. 2022)
○ $200,000 - Play Alpha Hole Prison in Spanish! (Added Jun. 2022)

Follow Us
| | |
| --- | --- |
| Updated | 12 days ago |
| Published | 22 days ago |
| Status | In development |
| Platforms | Windows, macOS, Linux |
| Publisher | Y Press Games |
| Rating | |
| Author | Y Press Games |
| Genre | Visual Novel |
| Made with | Ren'Py |
| Tags | Bara, Boys' Love, Dating Sim, Gay, gaymer, LGBT, LGBTQIA, prison, Yaoi |
| Average session | Days or more |
| Languages | English |
| Accessibility | Subtitles |
| Links | Steam, Community |
Purchase
In order to download this game you must purchase it at or above the minimum price of $29.69 USD. You will get access to the following files when they are released:
Alpha Hole Prison Coming On or Before 12/21
Exclusive content
Support this game at or above a special price point to receive something exclusive.
Comments
Log in with itch.io to leave a comment.
Will verataz be one of the romanceable route? he is the only one i am interested in.
Im so excited for this piece! I preorders two copies because I didn't see the rest on mobile, but I don't care. It is going to the right place. Good luck!
I played the demo and I love it !!! I had to preorder it right away! I wasn't surprised since I've supported every Kickstarter you do for a BL visual novel for the stories are so well written !!!
Before I give money I need a clarification. On the Kickstarter it previously said December 2020 release then in the comments you say March 2021. Now here all the way up until December 2021. What is the actual target release date?
As you know we never deliver a crowdfunding reward late. We don't finalize the release date until we pull the trigger and actually start collecting money from people. At that time we assess what date we could not possibly miss without rushing the ending of the game.

When we started making the game back in August of 2019 a December 2020 release date looked easy. We had our great studio from Italy putting out beautiful art on a consistent basis.

When Corona hit Italy, our artist lost family members and went into shell shock. They stopped all work for two months.

We always have a 3 month buffer for possible events just like this, but with this disease we worry that we could have multiple events that delay the production schedule.

We're not taking any chances with the trust of our backers. We've chosen a date very far out from our internal schedule 'just in case'. It's the responsible thing to do. It ensures we never lie to backers or fail to keep our promises.
Unlike Mister Versatile (happy it's getting made with extra) THIS I'm going to have to wait and save for. I enjoyed the Demo but Itch.io will take the money now, KS (Kickstarter) will take it after it's funded.
Kind of want to get in before it's KSed to say I was on the ground floor but if I don't in time I know I can still help (buy going to KS)
The voice acter of Rin- timber is it the same voice actor that did Keitaro Nagame from camp buddy i believe it is.
And Kenta in To Trust an Incubus!
oh ya your right i cant wait to play this game ill help out as soon as i gey my paycheck plus ive played to trust an Incubus and i loved it so keep up the good work and looking forward to more games from you.