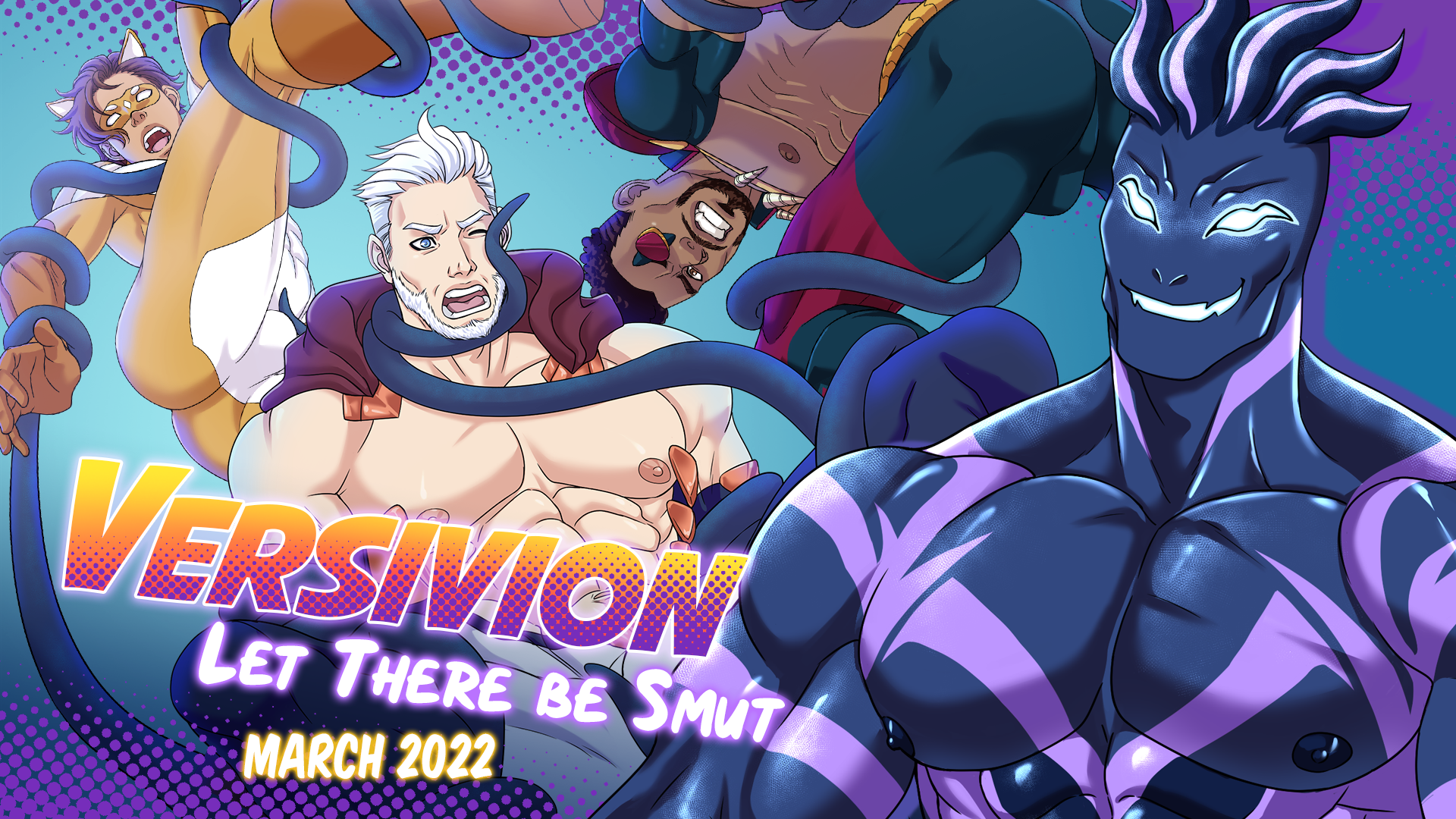 Mister Versatile: Versivion
A downloadable game for Windows, macOS, and Linux
Available Now!
This is a DLC for Mister Versatile, not a stand-alone game. You must have the most recent build of Mister Versatile installed to play this DLC. AVISO IMPORTANTE: Necesitas descargar e instalar la versión más reciente del juego Mister Versatile para que el DLC funcione.
When Mister Versatile merged with the alien symbiote Lascivion a new being was born: Versivion! Cuando Mister Versatile se entregó al alienígena Lascivion para salvarle la vida, un nuevo ser surgió de la unión de ambos: ¡Versivion!
Now the eternal loner Mister Versatile must learn to share his everything with the omnipresent alien. They have their ups, their downs, and their tentacle sex, but one thing that's never lacking is trust. Until... Ahora el solitario justiciero tiene que aprender a compartirlo absolutamente todo con su omnipresente simbionte. Tendrán sus más, sus menos y sus buenas dosis de sexo con tentáculos, pero siempre manteniendo la confianza el uno en el otro. Hasta que...
A new murderer is on the loose, and he's killing people the exact same way Versivion might if he over-sexed them. And they tend to happen on nights when Mister Versatile is too tired to satisfy his sexually ravenous symbiote... Un misterioso asesino aparece en la ciudad, y su forma de matar es exactamente idéntica a lo que ocurriría si Versivion perdiera el control durante el sexo. Lo más sospechoso de todo es que estos crímenes suelen ocurrir las noches en las que Mister Versatile está demasiado cansado para satisfacer a su insaciable amante.

Mister Versatile must work with Inspector Jeong to find out who's behind the murders, but it's hard to investigate when your symbiote is looking to bang every person you cross, be it Captain Crush, Driller, Chihuahua or the hot butt of the inspector. Mister Versatile deberá trabajar con el Inspector Jeong para averiguar quién anda detrás de los asesinatos, pero es difícil investigar cuando tu simbionte está empeñado en tirarse a todo aquel que se cruza en su camino; ya sea al Capitán Crush, Driller, Chihuahua o al mismísimo inspector.
Versivion, Let There Be Smut is an erotic mystery that will keep players guessing until the very end! Versivion, habrá magreo es un misterio altamente erótico que mantendrá a los jugadores en vilo hasta el final.

Features Novedades:
30 Brand New CGs! 30 Imágenes Nuevas

Free Strategy Guide Included!
Seven Different Endings! 7 Finales

Five New Backgrounds 5 Nuevos Escenarios

Dozens of new Character Sprites! Nuevos Sprites

Two New Original Songs 2 Nuevas Músicas Originales

New Animated Sequences Nuevas Animaciones

Two New Characters Nuevos Personajes
Versivion DLC Instructions:
Download the latest version of the Mister Versatile game. Extract or unzip the files. Now download the Versivion DLC file called versidlc.rpa. Open the Mister Versatile folder. Inside that folder there will be a folder called 'Game'. Drag versidlc.rpa into the Game folder. Now launch the game. You can access the DLC by clicking the banner on the menu page.

For Mac: You must unhide your folders first! Then follow the instructions above.
If you get the Brotherhunks DLC later make sure you get the latest versions of all the game files and reinstall both .rpa files. Don't use old files! Everything must be freshly downloaded from Itch.
Other Games from Y Press Games

We've got loads more gay games coming out! Join our Discord to talk to the devs, and follow us on TikTok, Twitter, and Instagram! You're here because you like gay games, right? That's literally what we're all about!!!
Purchase
In order to download this game you must purchase it at or above the minimum price of $10.99 USD. You will get access to the following files:
Versivion DLC - READ DOWNLOAD INSTRUCTIONS!
440 MB
Free Versivion Strategy Guide
159 kB
Comments
Log in with itch.io to leave a comment.
I downloaded the DLC on MAC but there is no "Game" folder to move the DLC file to .
Did you redownload the base game? The game folder is in the base game folder.
I figured it out. For some reason the folder containing the "game" folder wasn't showing up, but I found it! Can't wait
Re-downloaded the base game and bought the dlc can't seem to figure out how to get it to work though? cant find the dlc file to move into my game folder
The DLC file is the file you download after buying the DLC here. It's the only file you can download from this page.
Figured it out, I made things way to complicated sounding in my head!
I am having a little problem installing it. It says that I can look for the DLC in the main menu, but I cant see that option. I only see the main menu with the base game options. Where should I look it up for the DLC?
You need to download the base game again.
yes, thanks. I reinstalled it. i can see the icon of the DLC on the main screen now. thanks
Great art, just like in the first part! Very hot.
Oh my god... Yep I need this. A Mister Versatile DLC was the last thing I was expecting, but I'll take it! It's honestly my favorite of all your games.
Can't wait for this to come out!