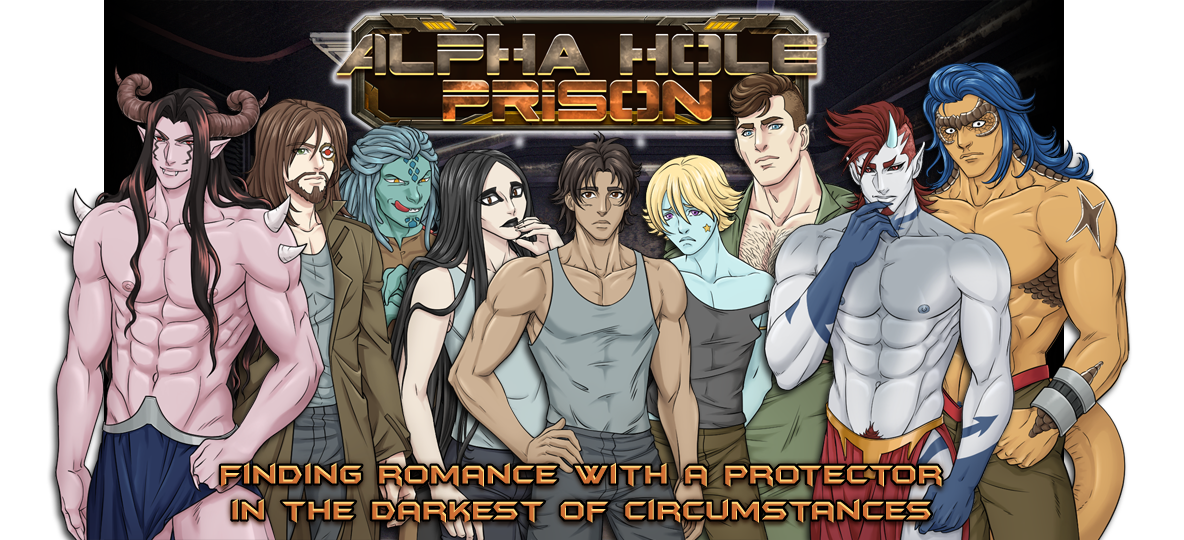 Alpha Hole Prison - Adults Only 18+ BL, Yaoi, Gay, Bara Visual Novel / Dating Sim
Viz-Goth Route Up for Beta-Testers!
---
Hey Everyone!
Here's What's Going On
We've just finished the Viz-Goth Route! That's 5 out of 6 routes done! Only Xenoskar is left.
Beta-Testers (Backers $125+): HALP! No seriously...we need more eyes on this. We're begging you! (See notes below).
THIS IS THE LAST BETA! The Xenoskar route will be released with the game NEXT MONTH!
Partial voice acting has been added to Rexillator, Maximus, Reaver, and Verataz routes!
All game art for Alpha Hole Prison IS DONE except for the custom backer scenes!
Scenes have been added for several custom rewards! Meet Alpha Hole Prison's Warden, the guard Dante, an inmate, a guard, and several others not pictured here! They will be in the Viz-Goth route and the other routes.
Beta Testers Please Read!
As always:
Do not play from old saves
To access the Viz-Goth route DO NOT choose a protector at lunch. Say no or that you're still thinking about it to whomever you have lunch with.
Please report errors and tell us where to find them! We need your help so badly!
Please give us feedback about the route. We are so deep into this we aren't able to see it anymore. Is it good? Is it bad? TELL US! We want this game to be the best it can be!
The longest and most complicated route of the game, Viz-Goth, is now available for beta-backers ($125+). This took a long time because it's a HUGE route, even longer than the Reaver route.
Testers: We need your help! We need to know about the errors you find. We struggled to fix everything, but the route is so long we know we've missed some stuff. Please, take a screencap with unique text (not ... or a moan, but something we can do a search for) where ever you see a mistake. Then email me whatever you find. yaoimila[at]gmail
We'd be INCREDIBLY grateful for everyone who can help. This game is so large it's going to be impossible to find all the errors. We really need help!
Of course we also need your feedback. What do you like? What don't you like? We take your suggestions to heart! Please help us make this the best game we can make it!!
Other News
Do you know we've announced FIVE NEW GAMES on our Discord? You didn't? Well you need to head over there and check it all out! The next Yaoi game (after Maelstrom) is Vampire Slave! Then we have a fun and light-hearted bara-style game Hardcore Cruising. We have a dark and demented fantasy, Manservant, and we have taken over development of Dear Monster!
Our Discord is the best way to keep up with all the Y Press Games news!

Get Alpha Hole Prison - Adults Only 18+ BL, Yaoi, Gay, Bara Visual Novel / Dating Sim